Medical Stick to Skin Materials
Medical stick-to-skin materials are adhesive tapes or bandages that are specifically designed to adhere to the skin without causing any damage or discomfort. These materials are used in a variety of medical applications, such as wound dressings, medical device attachments, and drug delivery systems.
Fralock provides custom solutions for medical adhesive applications that includes turnkey packaged products. Our facility is equipped with clean room standards ISO 14644-1: 2015 (E), Class 7 (Class 10,000).
Acrylic adhesives: These are the most widely used adhesives in medical applications because of their excellent skin adhesion properties and their ability to maintain adhesion even in the presence of moisture or sweat. They have strong initial tack and are highly durable. Some people may have allergic reactions to this material.


Silicone adhesives: These adhesives are soft, flexible, hypoallergenic with high level of biocompatibility, and are resistant to moisture and bacteria. They are also able to maintain adhesion even in the presence of moisture or sweat, making them ideal for use for people with skin sensitivity or those who need to wear tape for extended periods.


Polyurethane adhesives: These adhesives are flexible and conformable, making them ideal for use in medical devices that need to conform to the shape of the body. Able to maintain adhesion in the presence of moisture or sweat, they have a strong initial tack, and are resistant to bacteria. They tend to be less flexible than silicone adhesives and are not as suitable for long term wear as tapes such as silicone.


Hydrocolloid adhesives: These adhesives are ideal for wound dressings because they can absorb exudate, provide cushioning, and maintain a moist environment that promotes healing. They are also gentle on the skin and can be worn for several days without causing irritation.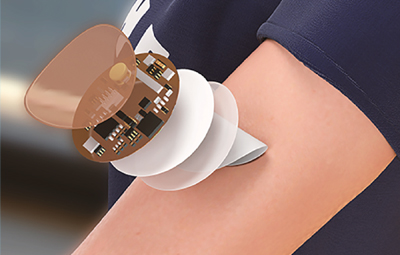 When selecting a medical stick-to-skin material, it is important to consider factors such as the duration of wear, the skin condition of the patient, and the intended use of the material. It is also important to ensure that the material is sterile and free from any contaminants that could cause infection or other complications.
Fralock's release liners are customized to your products. We are clean room certified with production and packaging, including pouching, serialize labeling, and packaging into cartons. In addition, we can engineer custom easy to use liners for high-efficiency application.